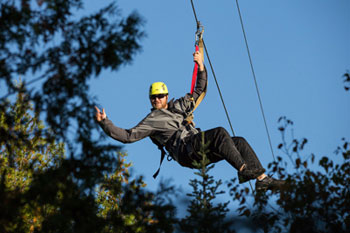 CANOPY ZIP LINE TOUR
Experience the most thrilling Eco Adventure in Door County. This fully guided "Living Tour" is built in the trees and is an ecological sightseeing adventure with a bird's eye view of breathtaking woodlands and a variety of wildlife. The 20 acre course is nestled into the Ridges Sanctuary which protects over 1000 acres of the most biologically diverse land in Wisconsin. The tour combines 3 canopy zip lines and a dual racing zip line totaling over 2000' of heart pounding excitement.
On the first leg of the tour you will climb to the top of a 35′ platform tower and take in the stunning panoramic views of Moonlight Bay and Cana Island.  Then it's time to fly!  Launch yourself into the tree tops and transverse over 450' to the first of two massive white pine tree top landings/launches. Reconnect and zip into the 2nd majestic monster pine. From here you will begin the 3rd leg as you  soar across a beautiful pond to your first ground landing. Then it's a short hike to the 600' dual racing zip line. Climb another 35' tower where you can pair up with a friend and race side by side to the bottom at exhilarating speeds! This is an adventure you're not going to want to miss!
CHECK IN
All tours check in at the Lakeshore Adventure Zip Line Office (8652 hwy 57 Baileys Harbor, WI 54202)     15 min prior to your scheduled tour. At this time participants will weigh in and all waivers will be completed. Then you will meet your Guides and get geared up along with some basic safety instructions.  Once completed it's time to fly!
REQUIREMENTS
Any participant that does not meet Lakeshore Adventures zip line tour requirements at check-in will not be permitted to participate.  Please read all the below requirements carefully.
Arrive at Lakeshore Adventures Zip Line office (8652 Hwy 57 Baileys Harbor) 15 minutes prior to tour start time
To allow Lakeshore Adventure staff adequate time for check-in we require all participants to arrive  15 minutes prior to their scheduled tour time.
Participants who arrive late will not be permitted to join their tour if it has already left the training area and refunds will not be given.  Your group and tour guides will leave as scheduled.
Course Guidelines
Participants are required to weigh between 60 lbs. and 275 lbs.  All participants will be weighed in at check-in.
Children under the age of 12 are to be accompanied by an adult (1 adult per 7 youth).
All participants must sign a Waiver of Release (a parent or legal guardian must also sign for participants under the age of 18).
Attire
Closed toe and secure heel shoes are required on the course.
Long hair should be tied back.
No dangling jewelry.
Skirts and/or very short shorts are NOT recommended (you will be wearing a harness).
Health Guidelines
Participants will not be permitted to zip if under the influence of alcohol, illegal drugs or impairing prescription drugs.
Medical conditions of any kind, that limits physical activity, must be brought to the attention of Lakeshore Adventures prior to the tour.
Pregnant women will not be allowed to participate.
The following conditions will prohibit participation: existing heart, leg, arm and/or back problems limiting physical ability.
Lakeshore Adventures reserves the right to exclude anyone from participating in any and all activities for any reason which might compromise the health and safety of you, our clients or our staff.  Exceptions to any of Lakeshore Adventures requirements are at the sole discretion of the management.
WAIVERS
Canopy Tour & Dual Racing Zip Line
All participants are required to sign a participation waiver.
Participants under the age of 18 are required to sign a waiver along with their parent or legal guardian. In the event that a minor is zipping with another adult (not their guardian), the Waiver may be downloaded and signed by the parent or legal guardian in advance.
CANCELLATION POLICY
7-Day Cancellation Policy
Your reservation may be canceled up to 7 days prior to your tour date.
You may change your reservation date or time one (1) time up to 7 days prior to your originally scheduled tour date.
No refunds or reschedules will be given with less than 7 days notice. Your Canopy Tour & Dual Racing Zip Line reservation is transferable.
If tours are canceled by Lakeshore Adventures due to lightning activity or any other unforeseeable conditions, participants may:
Reschedule for another available day or time.
Request a full refund. Refunds will be made ASAP by Lakeshore Adventures, however, please be aware if payment is made with a debit card, the debit card company may take up to 10 days to process the refund. Please contact your debit card company with additional questions.
Rain, Snow & Inclement Weather
Tours run year-round in all types of weather including rain and snow so we recommend that you dress appropriately for any type of weather. Please review our cancellation policy for complete information.
PAYMENTS & RATES
Zip Line Canopy Tour with Dual Race Zip
Adults – $69
Youth – $59
 Full payment is due at the time of booking all reservations.  Payment may be made by credit card for phone or internet reservations.  Cash payment is accepted when reservations are made in person at the Lakeshore Adventures main office 8113 Hwy 57 Baileys Harbor, WI 54202.